Quick Guide: Registering Details for Membership
If you're here, then you're at your last step to get your Membership rolling!
Just follow the instructions below :)
Step 1. Reset your password - It's true, you don't have a password yet, but for security & privacy reasons we ask you take this precaution.
Bitte setze dein Passwort zurück – Ja, es ist wahr Du hast noch kein Passwort, aufgrund von Privats -und Sicherheitsvorkehrungen möchten wir nun diesen Schritt gehen.
Enter the email address you purchased your Membership with. Bitte gebe die Email Adresse ein mit der Du die Mitgliedschaft erworben hast.
Step 2. Once you "send reset request" check your emails, the below message will be waiting for you!
Sobald Du "send reset request" gedrückt hast, kannst Du in Deinem Postfach nach der Folgenden Mail Ausschau halten. Durch einen Klick auf den Link kannst Du Dein Passwort neu auswählen und den Prozess fortführen.
P.s. We know that's not your name - that was our test ;)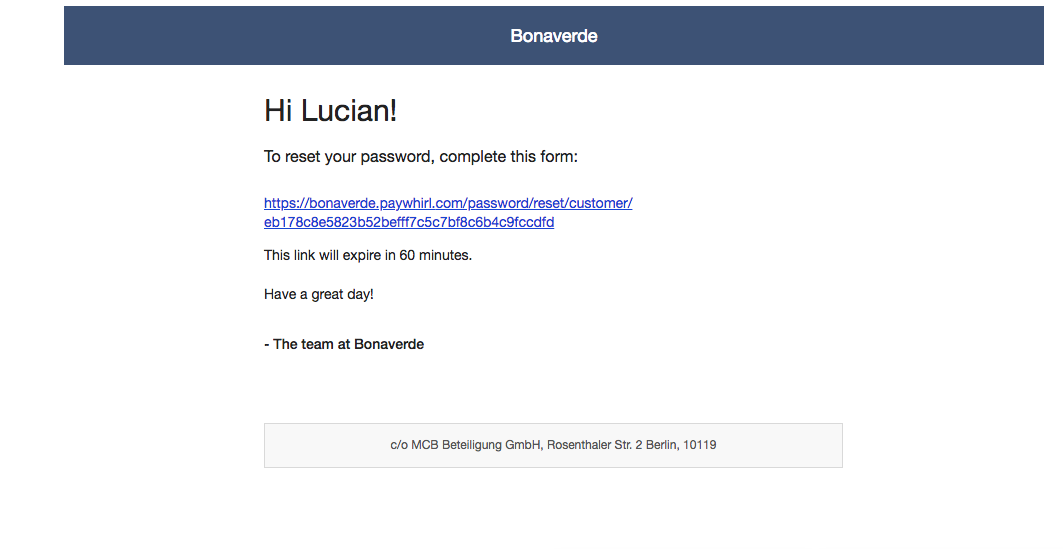 Step 3. Once your password is reset, you will have a full overview of your account as per below. Please get familiar with your account & provide shipping details to ensure we have the correct address. Most importantly:
Sobald dein Benutzerkonto und das Passwort zurückgesetzt wurden hast du wie auf dem Folgenden Bild zu erkennen, eine komplette Übersicht über Deine Bestellungen und Lieferungen.
Just put your payment details into our secure data storage service within "payment methods" and coffee will be with you in no time :)
Bitte füge nun unter
- "Payment Methods" deine aktuellen Zahlungsinformationen ein
- "My Profile" deine aktuelle Adresse
Sobald du diese Informationen zur Verfügung gestellt hast befindet sich deine Box mit Kaffee auf dem Weg zu dir.